AUGUST
THE LIST IS CONSTANTLY BEING UPDATED. GET ON THE MAILING LIST OR FOLLOW US ON TWITTER FOR WEEKLY UPDATES.
NOT ALL EVENTS ARE PRE-BOOKABLE.
CONCESSIONS ARE FOR STUDENTS WITH VALID ID, OVER 60s & MUSICIANS' UNION MEMBERS.
BK = BEAR KEEPER (MEMBERS)
IF YOU DON'T SEE THE DATE HERE, WE ARE NOT OPEN.
WE CLOSE AROUND MIDNIGHT.
THURSDAY 03 AUGUST
COLLABORATION LAUNCH
OPEN TO ALL. £5 ENTRY ON THE DOOR. ALL PROCEEDS TO ARTISTS.
In a celebration of multidisciplinary collaboration and solidarity, dance artist Julia Cheng, Creative Director of the all-female dance company House Of Absolute & contemporary art curator Kerry Campbell, Director of TMT Projects in Luton, are presenting their first collaborative projects, showing the power of connecting local and national artists, as well as launching a home-grown T-shirt line.

The two-part launch taking place in Luton on Thursday 3rd August and in London Tuesday 8th August, will both collide diverse practitioners in visual art, contemporary dance and live music in a gesture which hints at more ambitious collaborations to come.

The hand printed designs have been produced through a desire to reclaim the word 'Luton', focusing on the diverse individuals and art forms which thrive here.

All three handprinted designs will be available for purchase at both venues.

Featured artists and live performances.
And the bar.

www.houseofabsolute.com
www.tmtprojects.com
sATURDAY 05 AUGUST
JAZZFACE(LIFT)
The boys are back with their piano, bass and drums combo of fun lovin' jazz. Playing the standards and the not so standard with equal aplomb.
With Craig Stallwood, Steve Seal and featuring guest bassist Phil Manley-Reeve (replacing the irreplaceable Pete Myatt for one night only).
DOOR: 7.00PM
MUSIC: 8.30PM
£5 / £4 / £0 (BK)
EMAIL TO RESERVE
THURSDAY 10 AUGUST
BAR. QUIZ. MUSIC..... SOUL
As a precursor to their September event at the club (more on that soon), Soulvation Radio take over for the night. [BAR OPEN FROM 5.30PM]
FREE ENTRY
FRIDAY 11 AUGUST
THE COSIMO MATASSA PROJECT
The Cosimo Matassa Project are a group of musicians who share a love of early rhythm and blues. They pay homage to legendary New Orleans record producer Cosimo Matassa (1926 - 2014) and the artists who passed through his studios, such as Fats Domino, Big Joe Turner, Dave Bartholomew and Alan Tussaint. The band attempt to capture the spirit, soulfulness and groove of the hundreds of great records that emerged from Cosimo's studios in the late 1940s and onwards.
DOOR: 7.00PM
MUSIC: 8.30PM
£10 / £9 / £0 (BK)
EMAIL TO RESERVE
SATURDAY 12 AUGUST
IMPOSSIBLE THINGS / CORRIE DICK QUARTET
At the rhythmic epicentre of a new era of innovative British jazz is Corrie Dick, a musician lauded for his fluency, touch and euphoric abandon at the drum kit as well as his prolific body of work.

Tonight at The Bear he performs with a quartet of his close creative peers in what promises to be an intimate and explosive performance.

Today more than ever we need music as a release from life's challenges. Corrie and his cohorts do this and so much more with their set; glorious anthems surge from emotional landscapes awash with exciting grooves and textures. Lose yourself in the sophisticated, triumphant sounds of Corrie's debut album 'Impossible Things'.
George Crowley - Saxophone
Matt Robinson - Piano
Corrie Dick - Drums
Andrea Di Biase - Bass
CLICK HERE TO HEAR
DOOR: 7.00PM
MUSIC: 8.30PM
£10 / £9 / £0 (BK)
EMAIL TO RESERVE
THURSDAY 17 AUGUST
BBC INTRODUCING... BEDS, HERTS & BUCKS
Continuing our special events with the Beeb, we present another night featuring up and coming artists from each of the three counties. Hosted by Gareth Lloyd and BBC Three Counties Radio.
Lucy Mair
Combining acoustic pop with elements of jazz, Lucy's songs are romantic and honest. As a live act she uses loop pedals and her voice to layer her own harmonies plus a little bit of beatboxing. An enchanting experience not to be missed.

Tom Braggins
A live act not to be missed! Using loop pedals and effects to turn one man and a guitar into a bona-fide funk and soul experience. A technical marvel backed up by catchy songs about prevalent social issues.
Check out Tom HERE

Club Drive
They frequently achieve sell out headline shows and earlier this year their track 'Spare Time' was Introducing Track of the Week on BBC Radio 1! Fusing pop sensibilities with a funk rock edge, they are certainly one to watch and not to be missed at such an intimate venue like The Bear Club.
BAR OPEN: 5.30PM (please note sound checks will occur until 7PM)
MUSIC: 8.00PM
FREE ENTRY (thanks BBC)
FRIDAY 18 AUGUST
THE THUMPING TOMMYS
The Thumping Tommys specialise in old-time music. Having played at many great festival stages, bars and cafes, they play a heady brew of Irish and American folk music performed with a distinctly English style, and are fast establishing themselves as one of the most entertaining groups performing in the UK right now.
DOOR: 7.00PM
MUSIC: 8.30PM
£5 / £4 / £0 (BK)
SOLD OUT - SORRY.
SATURDAY 19 AUGUST
JAZZ HARP - TRIBUTE TO ALICE & JOHN COLTRANE
Internationally renowned jazz harpist Alina Bzhezhinska, award-winning jazz saxophonist Tony Kofi, a diverse bass player/ composer Larry Bartley and a virtuoso drummer Joel Prime star in this highly anticipated new show dedicated to one of the most famous couples in Jazz history – Alice & John Coltrane. They celebrate the double anniversary of Alice Coltrane's birth and death (1937-2007) by performing her original compositions dedicated to her husband along with his famous works "Naima", "Dahomey Dance" and "After The Rain".
THURSDAY 24 AUGUST
SLOW NIGHT
Clod Magazine DJs explore acoustic jazz eras, plus exotic, quixotic and rarified sounds, played on a record player and digital device.
5.30-11.30PM / FREE.
FRIDAY 25 AUGUST
TANGO JAZZ QUARTET / ON TOUR FROM ARGENTINA
Tango Jazz Quartet mixes the melodic and rhythmic patterns of Tango with the harmonies and improvisation of Jazz. This results in a new concept of our music. This new approach to Tango and Jazz has received an enthusiastic reaction both in Argentina as well as internationally. Over the last few years, the band has managed to establish itself on the international music scene and this is their first appearance at The Bear Club.
SATURDAY 26 AUGUST
LARRY BARTLEY TRIO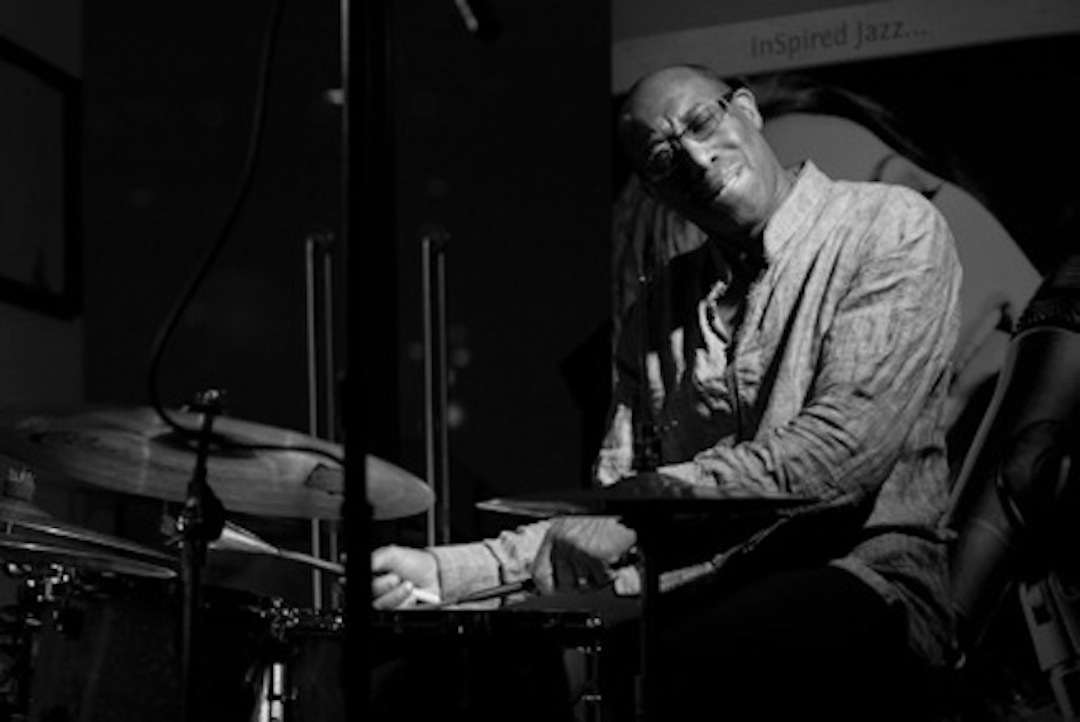 Super jazz line-up featuring three of the best talents around. Don't believe the Bear? Here are some reviews....
Larry Bartley - "Excellent bassist – with a distinctive Mingus-like drive to his propulsive bass lines." - Time Out Magazine

Chris Jerome - a dynamic and versatile keys player and composer who has performed and recorded extensively with a multitude of ground-breaking artists including Courtney Pine, Tom Jones, Mica Paris, Hugh Masekela, Beverley Knight, Jamelia, Sister Sledge, Imagination, and many other artists.

Rod Young - "supremely subtle and melodic…dynamic and powerful" - Music OMH magazine
DOOR: 7.00PM
MUSIC: 8.30PM
£10 / £9 / £5 (BK)
EMAIL TO RESERVE
What is the Jazz Jam?
The Jazz Jam is a session led by a great house band, where musicians and singers come to try out material, play old classics and sit in with other players.
Who is it for?
It is for everyone. Half of the crowd come to play, half come to just watch. It's the sort of gig where you don't know what's coming next.
What's the vibe?
It's a relaxed Sunday afternoon feel, very friendly and a chance to see some great music up close, often with musical combinations and improvisations that you will never see again.
If you are lucky...
....you might even see Perry's jazz dancers who stop in every now and then, clear some tables, and hit the floor.
Find the Jazz Jam on Facebook HERE
DOOR: 1.30pm
MUSIC: 2.00pm - 5.30PM
£4 / £3 (BK)
NO RESERVATIONS. FIRST COME FIRST SERVED.
SEPTEMBER IS OUR 3 YEAR ANNIVERSARY.
MARK IT OUT IN THE DIARY. IT'S GOING TO BE CHOCK FULL OF
RETURNING FRIENDS AND GREAT NEW ACTS.