NOVEMBER
GET ON THE MAILING LIST OR FOLLOW US ON TWITTER FOR WEEKLY UPDATES.
CONCESSIONS ARE FOR STUDENTS WITH VALID ID, OVER 60s & MUSICIANS' UNION MEMBERS.
BK = BEAR KEEPER (MEMBERS)
IF YOU DON'T SEE THE DATE HERE, WE ARE NOT OPEN.
WE CLOSE AROUND MIDNIGHT.
fRIDAY 1 NOVEMBER
Classic American Blues (via Paris)…
Guitarist Big Dez (Phil Fernandez) plays guitar with the chilling intensity of Albert Collins and Johnny Guitar Watson. He writes great foot tappin' blues plus rocking songs and ballads that cross genres. Whether jamming with Lucky Peterson in the clubs of Paris or playing at the larger European blues festivals, he delivers a great performance every time. The band's new album 'Last Train' is their 8th CD. The album was recorded in Paris and mixed in Austin, Texas.
Often likened to Omar Kent Dykes. Big Dez learned how to play the blues during a multitude of jam sessions and playing jobs in Chicago and Texas with the likes of Luther Allison, WC Clark, Billy Branch, Chicago guitarist, 'Killer' Ray Allison, Mike Cross, Tracy Conover, Alan Haynes and harmonica player Paul Orta. He's also played alongside Texas legend Uncle John Turner (drummer with Johnny Winter & Lightnin' Hopkins), Lucky Peterson and recorded with the Fabulous Thunderbirds bassist Preston Hubbard and US sax virtuoso Sax Gordon.
Big Dez was formed in Paris in 1996 and in 2009 they represented France at the International Blues Challenge in Memphis.
sATURDAY 2 NOVEMBER
R&B with a great big smile on its face…
Tim Penn & The Second Line are rapidly gathering a reputation as one of the top New Orleans R&B outfits around London. If you like Professor Longhair, Dr John, Allen Toussaint, The Neville Brothers, mixed in with an occasional old school Jelly Roll Morton - then this is one band you won't want to miss.
EMAIL TO RESERVE
SUNDAY 3 NOVEMBER
First Sunday of the month…
OPEN JAZZ SESSION
2PM - 5.30PM
£4 / £3 (BK)
FIRST COME FIRST SERVED
Come to watch, come to play, come to drink... The Jazz Jam is a session led by a great house band, where musicians and singers come to try out material, play old classics and sit in with other players. It is for everyone. Half of the crowd come to play, half come to just watch. It's the sort of gig where you don't know what's coming next.
Find the Jazz Jam organisers on Facebook HERE
THURSDAY 7 NOVEMBER
Clod Magazine DJs explore acoustic jazz eras, plus exotic, quixotic and rarified sounds, played on a record player and digital device.
Bar open from 5.30. Events start from 7.30.
FRIDAY 8 NOVEMBER
First ever UK tour from Belgium…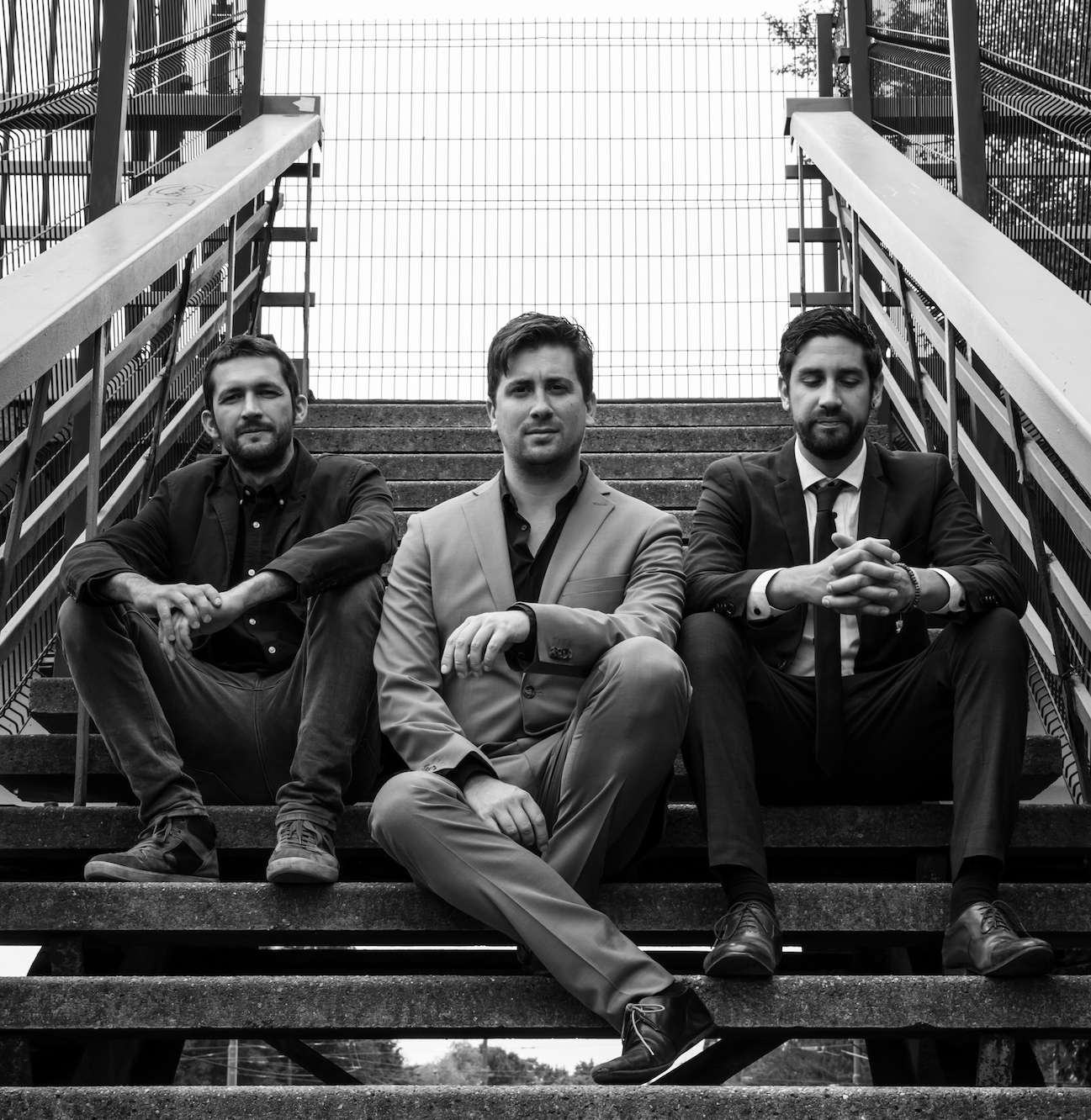 JAZZ
DOOR 7PM / MUSIC 8.30PM
£10 / £9 / £5 (BK)
EMAIL TO RESERVE
"One of the Belgian pianist that could put his mark on the Belgian and European scene in the next few years"
JAZZAROUND
Pianist Joachim Caffonnette, a leading figure of the young Belgian jazz scene, joins forces with one of Paris' tightest rhythm sections to give birth to a symbiotic new trio dedicated to Caffonnette's melodic and powerful compositions. They present an album entitled « Vers l'azur noir » (Towards The Black Azure - Neuklang Records - Germany) dedicated to all castaways and to the human intelligence that will leap to life so that hatred and stupidity will run out steam.
For the first time, the band will tour the UK, playing Caffonnette's originals as well as some covers from both the jazz and pop-rock repertoire. The eclecticism of this piano trio combo will lead the audience along hard swinging moments, melancholic times and great lyricism all glued together with a smart sense of interplay. Not to be missed !
Joachim Caffonnette - piano
Alex Gilson - double bass
Jean-Baptiste Pinet - drums

SATURDAY 9 nOVEMBER
Presenting their new world jazz fusion album…
NICOLAS MEIER WORLD GROUP
JAZZ / WORLD
DOOR 7PM / MUSIC 8.30PM
£10 / £9 / £0 (BK)
EMAIL TO RESERVE
"For connoisseurs of Jazz-World Fusion this album is an unconditional must. Completely wholeheartedly recommended!"
ADAM BARUCH
After the wonderful experience of touring the world with guitar legend Jeff Beck, Nicolas has been busy making 2 albums with jazz guitarist Pete Oxley, producing singer Gabrielle Ducomble, and experimenting in the instrumental metal world with his project (My Dark Side).
He also had the chance to record his album "Infinity" with Vinnie Colaiuta on drums and Jimmy Haslip on bass, worldwide distribution through Favored Nations (Steve Vai's Label) which led to international touring, Europe and USA tour.
All this give Nicolas new inspirations to make his acoustic world group with his "A" UK team: percussionist Demi Garcia from Barcelona, violinist Richard Jones from Wales and bassist Kevin Glasgow from Scotland .
"Peaceful" is music taken from many travels, listening to different folk music… Spanish, Turkish, Balkanic, Middle-estern, noth African, south American all in an improvised music…
Enjoy the sound of Nicolas' guitars (glissentar, fretted and fretless nylon strings, 12 string) all with the sound of the violin, accompanied with a strong rhythm from Demi and Kevin.
MONDAY 11 nOVEMBER
Music on Mondays present… BEETHOVEN Violin 1
For information about this classical concert, please go here
THURSDAY 14 nOVEMBER
BAR OPEN
Lights low, records playing and the best beer, gin and whisky selection in town.
Come for company. Come for solitude.
It's your bear.
SATURDAY 16 nOVEMBER
Back again for some solo Bear action…
Joe Stilgoe is an internationally acclaimed singer, pianist and songwriter. He has created a fresh sound for jazz in the 21st century, known for writing songs that feel like they've been around for years, and adapting classics that sound as though they were just written. As a recording artist he has released 5 critically lauded albums, three of which have topped the UK Jazz chart.
Over the course of his varied career he has become a true modern-day entertainer, known globally as a performer of wit, style and a level of musicianship which has seen him recognised as one of the best singer-pianists in the world. Always searching for a new way of bringing not only his own songs but those he loves from the past to a new audience, he is an enticing mix of his heroes Danny Kaye, Nat King Cole and Dudley Moore.
As a theatre performer he starred in High Society at The Old Vic in 2015, which led to him being invited to perform at the 2016 Olivier Awards, and in 2018 starred inGuys And Dolls at the Albert Hall.
As composer and lyricist, he wrote music and lyrics for a new production of The Jungle Book, which toured the UK to great success in 2017 and 2018, and The Midnight Gang, an adaption of the David Walliams novel, which opened at Chichester Festival Theatre in 2018. He is currently working on many new theatrical projects, including a new Walliams adaptation.
On TV, he has appeared most notably hosting BBC Young Jazz Musician of the Year, and least notably in Bargain Hunt.
All seating is on a first come first served basis.
THURSDAY 21 - SUNDAY 24 NOVEMBER
In a change to our regular programming, we bring you…
IF YOU LOVE THE WAY THE BEAR CLUB DOES MUSIC.
YOU'LL LOVE THE WAY FILMSTOCK DOES FILM.
Filmstock is back with all the old favourites that made it one of Britain's most beloved independent film festivals (2000-2009), with a few new flavours thrown into the mix.
Over 4 days, Filmstock will present an eclectic programme of short films, documentary and narrative features. However, in true Filmstock nature we don't stop there. Exhibitions, spoken word, podcasts and comedy will all play a part too. There will be the ever-popular catharsis of the Filmschlock screening, a focus on a recent wave of new music documentaries, some film exclusives, a historic and rarely seen 'Luton' film and the infamous socials where filmmakers, audiences and volunteers all hang out over good food, good coffee and good liquor.
Not content with feeding your eyes, ears and soul, we plan to feed your stomachs too, with hearty breakfasts and afternoon soul-food cookouts at our pop-up mess hall. Not to mention the best coffee in town at Filmstock Fix - our pop-up house of caffeine.
Events will take place in 4 different screening environments, including The Bear Club, Youthscape, and the newly-refurbished Hat Factory – Filmstock's original home from 2000-2009.
It's 50 years since Woodstock, the music festival that inspired our cinematic homage, and 10 years since we did this! A lot has changed, but also, a lot hasn't. It's still all about good cinema and good people creating memories and celebrating movies. Let's hope it really is like we've never been away.
FOR MORE INFO AND TO BUY YOUR FESTIVAL PASS GO HERE
MONDAY 25 NOVEMBER
Music on Mondays present…
For information about this classical concert, please go here
THURSDAY 28 nOVEMBER
BAR OPEN
Lights low, records playing and the best beer, gin and whisky selection in town.
Come for company. Come for solitude.
It's your bear.
FRIDAY 29 NOVEMBER
Focus on Jazz present…
MORE INFO TO FOLLOW
SATURDAY 30 NOV & SUNDAY 01 DECEMBER
** LIVE ALBUM RECORDING **
In a first for The Bear Club, we will present the same incredible band for two nights, as part of a live album recording. Both nights will be electric as this formidable quintet lays down their acclaimed tribute to the great 'Cannonball' Adderley.
Alto-sax master Tony Kofi fronts this loving celebration of the jazz giant (in every sense) Julian 'Cannnonball' Adderley. With Andy Davies (trumpet), Alex Webb (piano), Andrew Cleyndert (bass) and Alfonso Vitale (drums) the group traces the explosive music of Cannonball from his first session as leader in 1955 through work with Miles Davis to the soul-jazz of the 1960s.
Both nights need your love and support to make some history happen.
TICKETS £10 / £5 (BK)
CLICK TO RESERVE FOR SATURDAY
DOORS 7PM. MUSIC 8.30PM
CLICK TO RESERVE FOR SUNDAY
DOORS 7PM. MUSIC 8.00PM