DECEMBER
THE LIST IS CONSTANTLY BEING UPDATED. GET ON THE MAILING LIST OR FOLLOW US ON TWITTER FOR WEEKLY UPDATES.
NOT ALL EVENTS ARE PRE-BOOKABLE.
CONCESSIONS ARE FOR STUDENTS WITH VALID ID, OVER 60s & MUSICIANS' UNION MEMBERS.
BK = BEAR KEEPER (MEMBERS)
IF YOU DON'T SEE THE DATE HERE, WE ARE NOT OPEN.
WE CLOSE AROUND MIDNIGHT.
GETTING ANY SCROOGE IN THE MOOD
WE HAVE MADE FRIDAY NIGHTS IN DECEMBER ESPECIALLY CHRISTMAS PARTY FRIENDLY, WITH THE BEST OF BLUES, ROCK 'N' ROLL & RHYTHM & BLUES.
FRIDAY 01 DECEMBER
SISTER SUZIE
A little lady with a big voice, you can't help but smile and tap your feet to her explosive mixture of rhythm and blues, and she's bound to make you want to dance!
Her 5 piece band work to bring you a sound that is inspired by Sister Suzie's favourite artists such as Big Mama Thornton, Elmore James, Leadbelly, Irma Thomas, Big Joe Turner to name a few.
Bright, fresh and energetic Suzie really is one to see live.
DOOR: 7.00PM
MUSIC: 8.30PM
£10 / £9 / £5 (BK)
EMAIL TO RESERVE
sATURDAY 02 DECEMBER
ANDREA POZZA TRIO
Andrea Pozza is considered a "true jazzman", and an eclectic pianist capable of handling any repertoire with great ease. He has been active on the national and international jazz scene for nearly 30 years and is recognized by critics and audiences as one of the most representative figures in jazz. Also a recording artist for Luton's 33 Records, this is Andrea's first time to The Bear Club with his UK Connections Trio.
DOOR: 7.00PM
MUSIC: 8.30PM
£10 / £9 / £5 (BK)
EMAIL TO RESERVE
MONDAY 04 DECEMBER
MUSIC ON MONDAYS PRESENT...
New to The Bear Club for 2017-2018, we play host to the prestigious and long-running concert series by Luton Music Club. It's not every Monday, so look out for details. The concerts are open to non-members of the Luton Music Club, and more information about them can be found HERE.
MARTIN JARVIS
As the renowned journalist Christopher Hitchens once wrote, "Martin Jarvis is like a whole company of actors inside one suit." This legendary performer returns to Luton with two more of his inimitable Richmal Crompton Just William stories. These readings have been recorded and broadcast all over the world and have become the definitive versions of these enduring classics
Over the last four years he has given a series of concert performances of these tales with specially written underscore by Richard Sisson at London's Kings Place to great acclaim. For this concert they are joined by violinist Sophie Mather for salon pieces by Edward Elgar and the première of a new score for Crompton's William and the Musician.
TWO CONCERTS:
DOORS: 5.45PM
MUSIC: 6.15PM
ENDS: 7.45PM (approx)
DOORS: 7.45PM
MUSIC: 8.15PM
ENDS: 10PM (approx)
If you are not a member of LMC, tickets are available on the door, first come first served. Bear Keepers will receive a discount. Regular tickets £16. Bear Keepers £12
THUR 07 DECEMBER
BAR OPEN
Lights low, records playing and the best beer, gin and whisky selection in town.
AND THEN THIS...
FRIDAY 08 DECEMBER
JFK BLUE
JFK Blue have a fresh take on well-crafted rock and blues, with stirring songs and superb musicianship. These are musicians with one aim - to play their style of blues and rock with freedom of expression, not to get hung up on genres but to play music that they like. In doing so their music is contemporary yet has a retro feel which brings familiarity and joy.
People have commented that they have an Southern Rock feel combined with melodic songs and great hooks. 'Rough Round The Edges', the band's debut album, is made up of totally self-penned material, and it has received critical acclaim, having been played on BBC Radio2, Planet Rock and many other stations.
Paul Jones on BBC Radio 2 said : "A very impressive debut album from this London band, Chris Elliot has a terrific voice and has top drawer instrumentation around him".
CLICK HERE TO HEAR
DOOR: 7.00PM
MUSIC: 8.30PM
£10 / £9 / £5 (BK)
EMAIL TO RESERVE
SATURDAY 09 DECEMBER
THE ROSELLEYS
After doing an all too short support slot last year, we are delighted to welcome back the full band line up of The Rosellys. A perfect fit for the club and a real treat for anyone into their Americana. Beautiful harmonies, an array of instruments, including pedal guitar, make this group stand-out on the UK scene.
"The Rosellys are a band who make no apology for their love of Americana. Musically, they blend English accents with lyrical references to both the UK and US alongside well pitched bass, feisty drum beats and stunning pedal steel and fiddle to create a sound that walks the fine line between Celtic folk and Americana"
- Nashville Over Here
CLICK HERE TO HEAR
DOOR: 7.00PM
MUSIC: 8.30PM
£10 / £9 / £5 (BK)
EMAIL TO RESERVE
WEDNESDAY 13 DECEMBER
HAPPY SHARK COMEDY presents...
IAIN STIRLING
Headlining the night will be 'the voice of Love Island', Iain Stirling. The last few months have seen Iain's fame skyrocket, with tickets for his Edinburgh run selling out before he'd even arrived. He's just announced a headline show at The Hammersmith Apollo, so catch him up close whilst you still can!

PHIL WANG
Opening the night is star of 'Live at The Apollo', 'Have I Got News For You' and 'Would I Lie To You', Phil Wang. Phil received rave reviews at this year's Edinburgh Festival and is another comedian on the cusp of full on stardom.

STEVE BUGEJA
Steve is a great comic that has supported the likes of Russell Kane, appeared on Stand Up Central and written for all your favourite panel shows. He recently sold out Leicester Square Theatre performing his latest solo hour.

SIMON FEILDER
The night will be compered by the wonderful Simon Feilder. Simon is a firm favourite at The Bear and completes a very special Christmas line up.
DOOR: 7.00PM / £10
HERE FOR TICKETS
THURSDAY 14 DECEMBER
BBC INTRODUCING
BBC Introducing is bringing three of their favourite new artists to Luton for a free gig at The Bear Club. The night will be recorded and broadcast over Christmas.

Grace Ackeman

This summer Grace played our stage at Standon Calling Festival and we loved her so much we just had to bring her to The Bear Club. Taking influence from the likes of Sia and Christine and the Queens, Grace has had support from BBC Radio 1 and BBC Radio 1 Xtra. She's certainly one to watch in 2018!

Etham
Live performance is at the heart of what Etham does and where his incredible voice has to be heard. He's been busy on the road supporting the likes of Ella Eyre, J.P Cooper, Sigrid, Astrid S, James TW, Justin Bieber & Tom Walker.
He's gained over 2 million Facebook views on his recent tracks and entered the 'Viral Charts' on Spotify.

The Wholls
For years The Wholls have dominated the local music scene with their high energy and electrifying live shows.
Last year they played a set at the BBC Introducing Stage at Reading & Leeds Festival, and featured as BBC Introducing Track of the Week on BBC Radio 1.
This is a unique opportunity to see the band in an intimate venue with a special stripped back set.
DOOR: 7.00PM
MUSIC: 7.30PM
FREE ENTRY
FRIDAY 15 DECEMBER
WESLEY KARR & THE AUTOMOBILES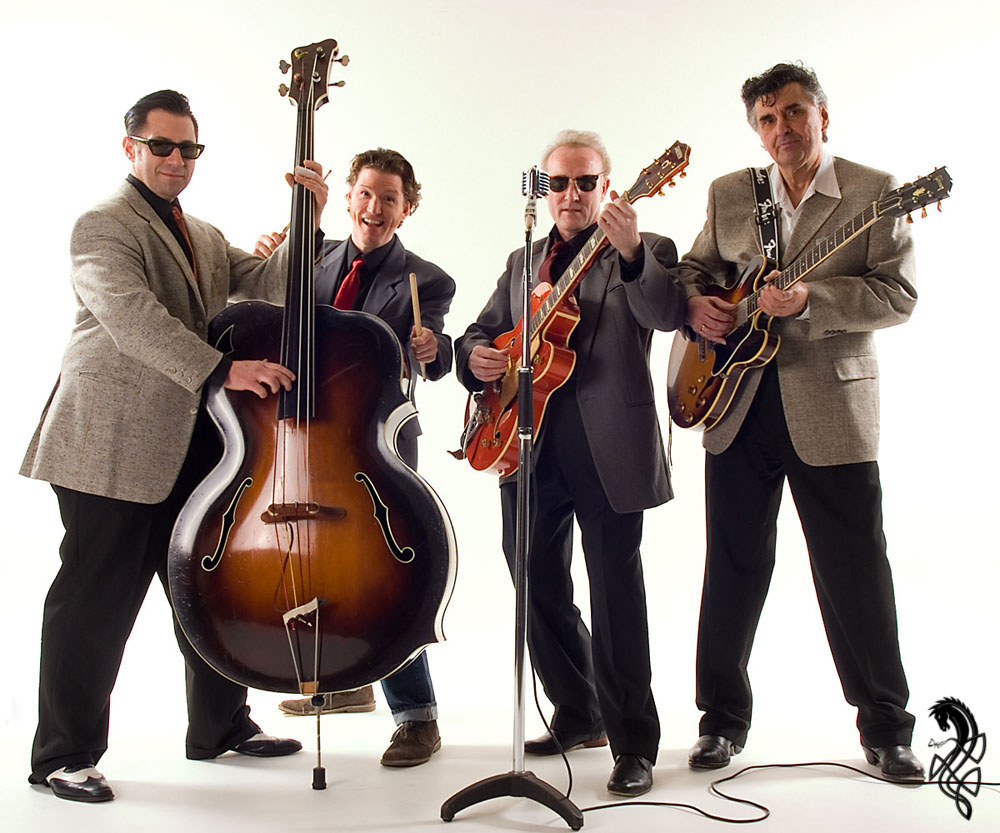 A four-piece Rockabilly band with a Western Swing feel. Serious about their music but a helluva lot of fun too.
DOOR: 7.00PM
MUSIC: 8.30PM
£10 / £9 / £5 (BK)
EMAIL TO RESERVE
SATURDAY 16 DECEMBER
TINA MAY
Tina May, one of 'the great' jazz singers, and a mesmerising vocal performer, returns to her favourite Bear with a swingin' jazz show featuring Dave Gordon on piano and Steve Brown on drums.
Tina is an international jazz star, and we are delighted to welcome her back for what is becoming a bit of a December tradition, and so far every show has been a completely different musical experience.
DOOR: 7.00PM
MUSIC: 8.30PM
£10 / £9/ £0 (BK)
EMAIL TO RESERVE
THURSDAY 21 DECEMBER
DARK PARTY
DJ Ginger John's laid back gig, bringing contemporary sounds to the vintage walls. FREE.
FRIDAY 22 DECEMBER
CHRISTMAS PARTY #1 - THE UNTOUCHABLES
Last year's Christmas party was so popular, and over-subscribed, we thought we'd throw two this year, both with fun loving' Bear style bands. There'll be mulled wine, mince pies, special Christmas Gin & Tonic and warming spiced malts.
Champions of raw blues and swinging soul, The Untouchables base their sound on the great artists who recorded for Chess Records in the 50s.
With a string bass, a vintage drum kit, a cranked guitar through a hot valve amp and a wailing harp, this band turns any venue into a rockin' juke joint.
DOOR: 7.00PM
MUSIC: 8.30PM
£10 / £9/ £0 (BK)
SOLD OUT
SATURDAY 23 DECEMBER
CHRISTMAS PARTY #2 - THE THUMPING TOMMY'S
Last year's Christmas party was so popular, and over-subscribed, we thought we'd throw two this year, both with fun loving' Bear style bands. There'll be mulled wine, mince pies, special Christmas Gin & Tonic and warming spiced malts.
The Thumping Tommys specialise in old-time music. Having played at many great festival stages, bars and cafes, they play a heady brew of Irish and American folk music performed with a distinctly English style, and are fast establishing themselves as one of the most entertaining groups performing in the UK right now.
DOOR: 7.00PM
MUSIC: 8.30PM
£10 / £9/ £0 (BK)
SOLD OUT
SEE YOU IN THE NEW YEAR
MERRY CHRISTMAS
BEAR xx
BEAR IS IN HIBERNATION UNTIL FEBRUARY 2ND*
*except for the odd special event. Gotta pay those bills.